Introduction to the sector
The meat section of Mercabarna houses the slaughterhouse and ten companies specialising in the handling and sale of meat products. The average annual turnover, including slaughter and distribution, totals more than 50,000 tonnes.
The Slaughterhouse
The Slaughterhouse was transferred to Mercabarna on 29 March 1979. Until then, the old municipal slaughterhouse, called "La Vinyeta", had been located in today's Joan Miró park in Barcelona, next to Plaça d'Espanya.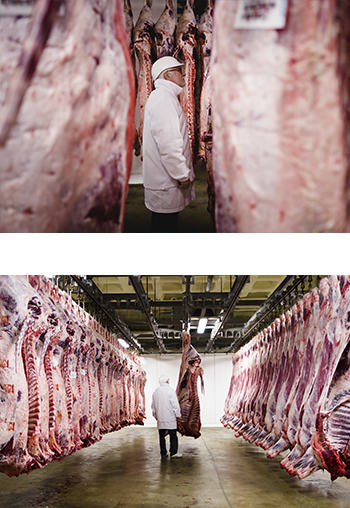 This facility occupies around 30,000 m2 and boasts:
Two slaughter lines: one for cows and horses and one for sheep and goats.
Livestock reception corrals
Bleeding area
Ritual slaughter box (equipment for immobilising the animal, enabling ritual slaughter, improving health and safety conditions, reducing the animal's suffering and facilitating the operatives' work)
Refrigerated and automated sales hall
Cold store facilities
Evisceration areas
Food-safety inspection services
Offices for user companies
The Mercabarna Slaughterhouse slaughters around 22,000 tonnes of meat per year.
Meat sector
The Mercabarna meat sector is formed of around 10 companies specialising in the preparation, sale and distribution of all types of meat products.
The formats offered by these companies are many and varied because they are constantly adapting to the needs of each customer (supermarkets, restaurants, traditional butchers, etc.).
Ritual slaughters
With the rise in the Muslim and Jewish populations in Catalonia, in May 2004 Mercabarna provided them with a new service: Halal slaughter.
The Slaughterhouse has the Halal Mark of Guarantee from the Halal Institute of the Islamic Council of Spain, ensuring that the animals are slaughtered following the rituals established by the Muslim religion.
Opening time of the Salesroom
Monday to Friday 5 am to 2 pm
Diana Sumelzo Manager of Slaughterhouse
Telephone: 93 556 33 30 / 93 556 30 00
Fax: 93 556 31 20
Slaughterhouse opening times
Opening time of the Salesroom
Monday to Friday 5 am to 2 pm