Mercabarna Grants
Mercabarna Grants were created in June 2014 in order to foster employment, promote business activity and improve competitiveness in the companies in the Food Unit.
Through these Grants, Mercabarna seeks to encourage the hire, by any of the 700 companies in the food trading estate, of young university students and people unemployment who have taken any of the vocational courses given at Mercabarna. To do so, Mercabarna is funding the hire, for six months, of this people.
Since its launch, the firms located in Mercabarna have hired forty professionals thanks to Mercabarna Grants.
Benefits for companies
Mercabarna provides the entire basic inter-professional salary of grant recipients for a period of six months.
The incorporation of these new workers helps to introduce new knowledge, innovation and internationalisation to the companies at Mercabarna and provides genuine professionals in trades associated with fresh products.
---
Grants for graduates
Thanks to Mercabarna Grants, companies can hire qualified university graduates specialized in:
Graduates who have studied in the Barcelona School of Agricultural Engineering (ESAB) at UPC-BarcelonaTech:
Degree in Food Engineering
Degree in Agricultural Engineering
Degree in Biosystems Engineering
Degree in Agricultural, Environmental and Landscape Engineering
Master's Degree in Aquaculture
These university graduates are trained for participation in the complete process of a fresh product, from the arrival of both plant or animal based raw materials to their transformation into the given product. They help to improve the end quality of the food product, but can also modify the machinery, reduce the energy cost of a project, assess the waste generated, etc.
International Business and Marketing
Graduates who come from the School of International Studies (ESCI-UPC) and who have studied courses about international trade: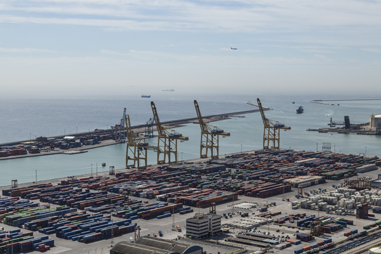 Degree in International Business and Marketing
Master's Degree in Foreign Trade
These profiles seek to respond to the increasing foreign export activity of the companies located in Mercabarna, which require professionals t ao join their export, purchasing and international logistics, commercial and sales departments, as well as marketing, advertising and research staff.
Experience of a company located in Mercabarna that has hired a graduated through Mercabarna Grants
---
Grants for the unemployed
Mercabarna also wishes to offer an opportunity to unemployment people who have taken any of professional courses, as it is very difficult for such people to find work.
Mercabarna therefore offers aid to companies that hire unemployed people who have taken any of the courses given by the Mercabarna Training Services and are specialised in trades in the food and agriculture sector:
Quartering of animals
Florists
Fishmongers
Warehouse assistant
Food retailers
Contact
If you would like to hire any of these profiles via Mercabarna Grants or receive further information:
Mercabarna Training Service
Telephones: 93 556 34 56 / 93 556 30 00